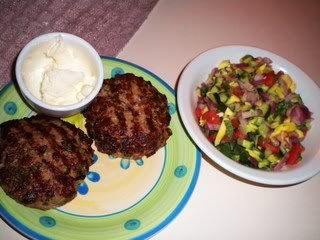 Lamb Burgers
500g minced lamb
4 springs onions, finely chopped
2 cloves garlic, finely chopped,
1 small red chilli, finely chopped
3 tbsp mixed chopped fresh mint & parsley
1 tsp ground cumin, roasted
Salt & pepper
*Mix together the lamb, springs onions, garlic, chilli, cumin, salt/pepper and 1/2 the herbs. Form mixture into 8 patties and set aside for 30 mins
Avocado & Red Onion Relish
1 avocado, diced
1 red onion, finely chopped
1 small Lebanese cucumber, finely chopped
1/2 green chilli, finely chopped
1 tbsp chopped fresh mint
3 tbsp freshly squeezed lemon juice
1 tsp splenda
1 tbsp flat leaf parsley sprigs
Salt/pepper
*Mix all ingredients together - add more lemon/splenda as necessary
*Cook the burgers on a preheated bbq or griddlepan for 10-15mins, turning once. Dollop with herbed sour cream.