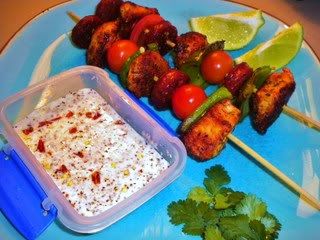 You will need...........
1 chicken breast, cut into chunks
1/2 chorizo sausage, sliced thickly
1 green capsicum
4 cherry tomatoes
2 bamboo skewers
Olive oil
Few tbsp cajun seasoning
1tbsp garlic powder
1/2 tsp chilli powder
Salt/pepper
*Rub the chicken pieces with the powders and seasoning then fry till golden but not cooked through on each side, also add the chorizo slices in at the same time.
*Remove from the heat, add the capsicums and put the pan into a preheated oven (180c) for 7-8mins or till chicken is cooked through
Lime, mint & chilli dip
1/4 cup of full fat mayonnaise
Juice from 1/4 of a lime
1tbsp dried mint (you can use fresh of course)
1/4 tsp dried chilli flakes or chilli powder
1tbsp unsweetened dessicated coconut (optional)
*Mix together
Remove pan from the oven and thread contents onto skewers along with cherry tomatoes. Garnish with lime wedges and serve.