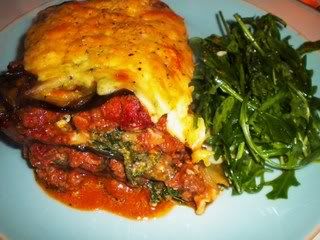 You will need...........
2 medium egglants (600g)
200g baby spinach leaves (I used thawed frozen spinach)
150g ricotta
1 egg white
1/2 cup (50g) grated mozzarella
1/3 cup (25g) grated parmesan

Bolognaise Sauce
2tbsp olive oil
1 onion, coarsely chopped
1 small red capsicum, coarsely chopped
1 small green capsicum, coarsely chopped
3 cloves garlic, diced
250g beef mince
1 large tomato (90g) chopped coarsely
1tbsp tomato paste
1/2 cup (125ml) dry red wine
400g tin chopped tomatoes
2tbsp fresh, coarsely chopped basil
1tbsp fresh oregano
Rocket Salad
100g rocket
1/2 cup fresh basil leaves
1 tbsp balsamic vinegar
1 tbsp extra virgin olive oil
----------------------------------------------------------------
1. Preheat oven to 180c, then make bolognaise sauce

BOLOGNAISE SAUCE
Heat oil in a medium frying pan, cook onion, capsicums and garlic until onion softens. Add beef to pan, cook, stirring, until beef is browned all over. Add coarsley chopped tomato and the paste, cook for 3 mins. Add wine and cook for a further 2 mins, stirring all the time. Add undrained tomatoes, bring to a boil, reduce heat and simmer for around 25 mins or until mixture thickens slightly. Add fresh herbs and season.
2. Carefully cut eggplants into 2mm slices, then cook on an oiled griddle pan until tender
3. Boil, steam or microwave spinach until tender, drain and press as much liquid as possible from spinach and cool for 10mins. Combine spinach, ricotta and egg in a bowl.
4. Spread one cup of the sauce over the base of a baking dish. Top with layers of eggplant, then some spinach mixture, then another cup of sauce, remaining eggplant and spinach mixture
5. Sprinkle top with cheeses and bake uncovered for around 20mins or until top is slightly browned (I finished mines off in the grill) then let it stand for 10mins
6. Make rocket salad and serve!
SERVES 4
PER SERVE -
16.2g carbs
20.3g fat
30g protein
390 cals
***If you want to make it lower carb, use half an onion, omit the capsicum and use 1/2 the tin of tomatoes, omit the red wine. I also added a few dashes of Worcestershire sauce and chilli to the bolognaise mixture***
STEP BY STEP