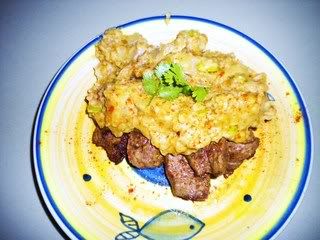 You will need..........
1 onion, finely chopped
2 red chillies, finely chopped
2 cloves garlic, crushed
1tbsp peanut or olive oil
250g crunchy peanut butter (I used Sanitarium 100% peanut butter)
1tbsp soy sauce
2tsp sweetener
1tbsp fresh lime juice (you can also use lemon)
1 cup unsweetened coconut milk or cream
------------------------------
1tsp soy sauce
Freshly ground salt/pepper
1/4 tsp ground cumin
1/4 tsp ground coriander
1tsp lemon juice
1/4 tsp oil
250g beef, cut across the grain into strips
OPTIONAL bamboo skewers soaked for an hour
*To make the sauce, fry onion, garlic and chilli in oil until onion is transparent then add remaining ingredients , stir to blend and cook gently for around 10 minutes until sauce thickens.
*Taste and add more soy sauce/lime or lemon juice as required - if sauce seems to thick, add a little water. Set aside
*Combine soy, salt/pepper, cumin, coriander, lemon juice & oil, marinate beef in this sauce for at least 30 mins.
*Oil griddle pan or bbq till medium-hot. Thread beef onto skewers and bbq/griddle for 5-10mins , turning once. Rest the beef for 10 mins, covered with foil - this will ensure that it's soft and tender.
You can serve with sauce in a seperate dish or drizzle the sauce over the skewers.