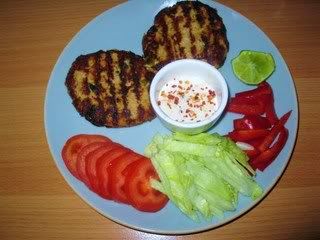 You will need........
1 cup mayonnaise
1/4 cup flaked coconut, finely chopped
1 tablespoon chopped fresh mint
2 pounds ground chicken
1/2 cup Thai peanut sauce
2 tablespoons red curry paste
2 tablespoons minced green onion
2 tablespoons minced fresh parsley
2 teaspoons soy sauce
3 cloves garlic, minced
2 teaspoons lemon juice
2 teaspoons lime juice
*In a small bowl, mix together mayonnaise, coconut, and mint. Cover, and refrigerate for at least 1 hour.
*In a large bowl, mix together ground chicken, Thai peanut sauce, curry paste, green onion, parsley, soy sauce, garlic, lemon juice & lime juice. Be careful not to over-mix. Divide into 8 equal size balls. Flatten into patties about 1/2 inch thick.
*Preheat the grill for medium-high heat.
*Lightly oil the grill grate. Grill burgers for 6 to 8 minutes per side, or until well done. Serve with coconut-mint mayonnaise & side salad